I just literally got back from work and oh boy how tiring my day was. It was kinda busy today because I think most people did their halloween shopping. I had a terrible headache all day but still manage to finish my hours. Glad to be home and feel relief that I don't need to get up early tomorrow. My daughter is still on school holiday so, that gives me a little rest from getting up early in the morning and its my day off so, I might take a trip to the shops and do a little shopping for myself. Haven't done any shopping lately or bought anything apart from a new black top on Saturday. I see there are loads of cool stuff this fall and I wanna buy some purple top as well to wear this coming friday at work as it's required for our halloween staff celebration. I might grab some thermal undies too to keep me warm.
Anyway, I got my new set of uniform today (actually, all of the staff got their new uniform) so, by Sunday I can wear my new uniform and I am too excited about it since it has different style and colour. Ooh, I think I like our new uniform as it has a better design and cut compare to our previous one. So, I am quite happy to wear it and I might take some pics to share later on.
Anyhow, I wanna thanks everyone who keep dropping here and also entrecard droppers, thanks a lot too.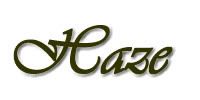 Technorati Profile