Grab this from a friend......
Friday Question.....
Was your last kiss drunk or sober?
---} NEITHER.
Do you put ketchup on top of your french fries or on the side?
---} Side, always.
Do you talk to your most recent ex?
---} Not at all.
Who did you last talk to on the phone for over 15 minutes?
---} No one?
Where will you be in an hour?
---} At work.
Are you happy about that?
---} OH YES, who wouldn't? It maybe tiring but when payday comes is all worth my effort.
Are you a family person?
---} YES.
What was the last drug you did/took?
---} Paracetamol coz I got headache.
Is there anyone you would die for?
---} A FEW PERHAPS.
Ever talked to someone that was high?
---} Depend on the content, it could be Yes and No.
Are you currently frustrated with a boy or girl?
---} NOPE.
What did you do last night?
---} Sleeping, after our beach trip to Little Hampton.
Would you go out in public without getting dressed up or put together?
---} Why not?
Have you kissed or hugged someone today?
---} YES.
Are you a dumb blonde!?
---} Nope, I am not blonde nor dumb, hahaha.
Do people underestimate your intelligence?
---} There are always but doesn't bother me in a slightest.
Would you rather have love or money?
---} BOTH.
Have you ever sat on a roof top?
---} YES. LOOOOOONG TIME AGO.
Interested in anyone at the moment?
---} Not at all.
Do you know how to play poker?
---} A little.
Any plans for the weekend?
---} Go shopping, outdoors fun maybe.
What time do you get up in the morning?
---} usually 7:30 if I had to take my daughter to school but if not I always get up 10 am.
Do you eat ranch with your pizza?
---} No idea.
Are you a LOST fanatic?
---} Not really.
Grey's Anatomy?
---} NO.
What are the color of your bedroom walls?
---} White (Purity) or (Virgin) [LAUGH]
Have you ever loved someone then realized you hated them?
---} NOPE.
Tag...everyone in my BLOGROLL...grab it now!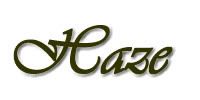 Technorati Profile