This is the Canyon at my friend's house. It is one of her house decors at her living room and I find it fascinated so I made a shot out of it and gladly it came out really well. I used my EFS Lens 55-200mm.
The same to this sail boat display at my friend's house on Saturday. It was a nice home decor and a good theme for my weekend Snapshots.
This is Nicole's hand, one of the celebrant on Saturday's event. We are invited and glad I finish work early otherwise I would have missed all the goodies. I had great time and so does everyone including my kids and husband.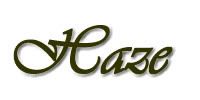 Technorati Profile